Hair Bungee Silicon
Hair Bungee Silicon
Why Silicon?
Silicon is made from silicon dioxide or silica derived naturally from common beach sand or quartz. As such Silicon is an eco-friendly material with properties that repels other objects (solids and fluids) providing a non-stick & non-absorbent environment which is also hygienic. Once tension is applied (stretched) silicon creates a hold that remains static until it has been released whether that's for an hour or days at a time. It is these features that makes silicon the perfect material for our new Hair Bungee® Session Silicon Range.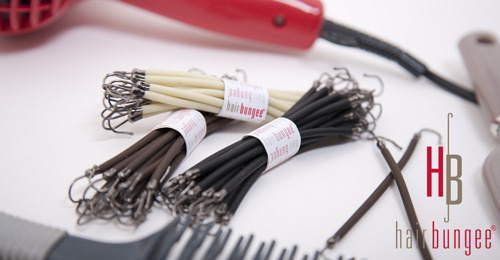 Hair Bungee Innovation
The silicon range from Hair Bungee® provides maximum hold when tension is applied, yet glides from the hair when released. The new range also incorporates a new hook design making Hair Bungee the most advanced hair band available. It's also the first (and only) to be eco-friendly and offer a three month warranty. Proudly designed in Australia to meet the functionality and quality demands of Professional Editorial & Session Stylists around the world.

Silicon Band
Silicon has many advantages over traditional material based hair bands. It requires less tension to create a firm hold so there's minimal stress on the hair and scalp. In fact the hair is actually repelled from the silicone when released, meaning it wont matt or tangle, so no more tearing from the scalp.

New Hook Design
The new micro hook has been designed to hold more hair and sit with a lower profile. Made with the finest diameter possible (1mm) it's half the size of its competitors. The shortened shaft and wider gape gathers more hair for a secure hold, is less detectable and easier to integrate when styling. They also have a HAND DIPPED coating to protect the hair and band from any sharp edges.

Hygienic
Material hair bands absorb fluids and oils from the body or environment. This can promote the growth of bacteria that transfers to the hair causing molds with undesirable results. Being non-absorbent and instant drying, the new Hair Bungee silicone range eliminates these concerns and is also perfect for use in humid climates or during sporting activities.

Hair Bungee Silicon Session Master
Produced in traditional colours (black, blonde and brown), the Session Master has been evaluated by top ranking stylists providing exceptional results in both salon and editorial trials. Designed for professional styling and everyday use.

Hair Bungee Silicon Candy
Candy delivers all the advantages of the new design but adds bright colours for the first time. Each pack contains a pink, blue, orange and green Hair Bungee. Worn to be seen, the almost fluorescent range offers zesty styling options for all ages.